Day 5 Assisi - Assisi. Distance 298 Km
Well today was the big one, the longest stage of the tour, so I was on my own today as Bill decided that he fancied having a bit of a tour around on his own at his own pace. This might be because competitive me had got the bit between my teeth and was getting into this whole race thing! I needed to get up the list! A quick check over the Velo this morning as I noticed the clutch slip a little but only when I was going for an overtake on an uphill section, so really not the best for an MSS, easy on the Venom or Thruxton, but I brought the MSS for two reasons really, one just because it's my most favourite Velocette that I own and two because it's the most comfortable Velo that I own and these seemed high up on the priority list when I was deciding on what bike to take. So again I drained a slight amount of oil from the primary chaincase, the oil level had dropped for the first time which wasn't bad after after covering almost 1100 Km over the last 4 days. So oil level topped back up with SAE 50, tyre pressures checked (a daily routine) and apart from that everything was good to go and didn't need any attention. Can you see why I love this bike? Plus the fact that it starts first kick most of the time, which she did this morning. With the bike ticking over at about 600 rpm, gloves and helmet put on, Kriega backpack with a few emergency tools and tubes, it was time to mount up and head into the main square in Assisi for the start. A Special stage to kick things off was first as normal and then back out on the road. We were again doing a big loop today to return to Assisi in the evening. The first stop of the day was a town called Bettona which is an ancient town with Medieval walls around the majority, giving some amazing views from the ramparts.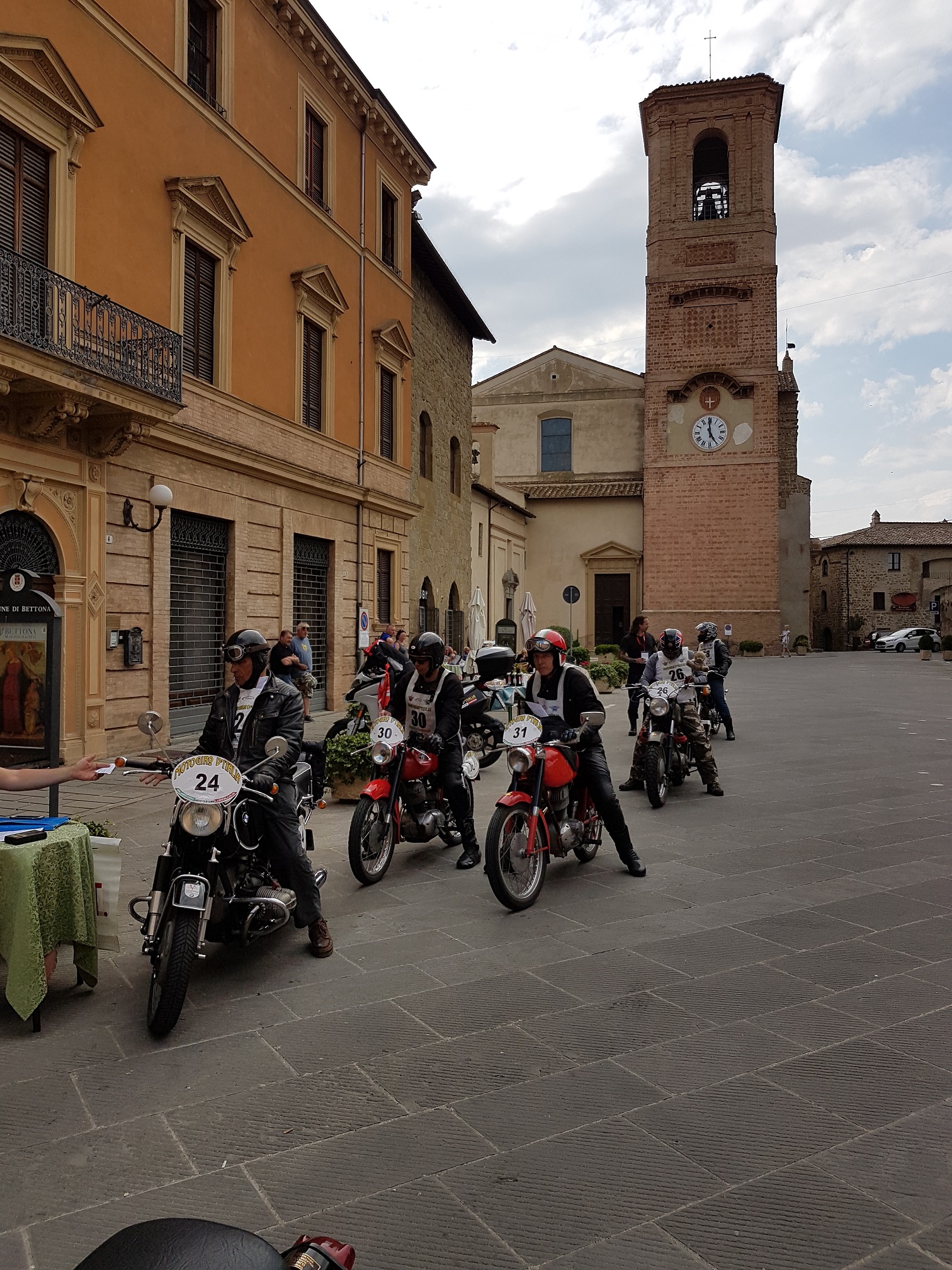 We were then heading south through Umbria, I might have said this before but the roads are truly amazing and just perfect for these classic motorcycles as you are going slow enough to enjoy some of the scenery that I probably wouldn't have seen if I was on my Suzuki GSX-R. Getting on a classic bike several years ago for the first time seemed just wrong to me, lets face it I have grown up on bikes from the mid 1990's, a Velocette is a world away from these machines, but I can honestly say that I enjoy these in a much different way but I think they give more pleasure than just tearing the road up on a sports bike. Todi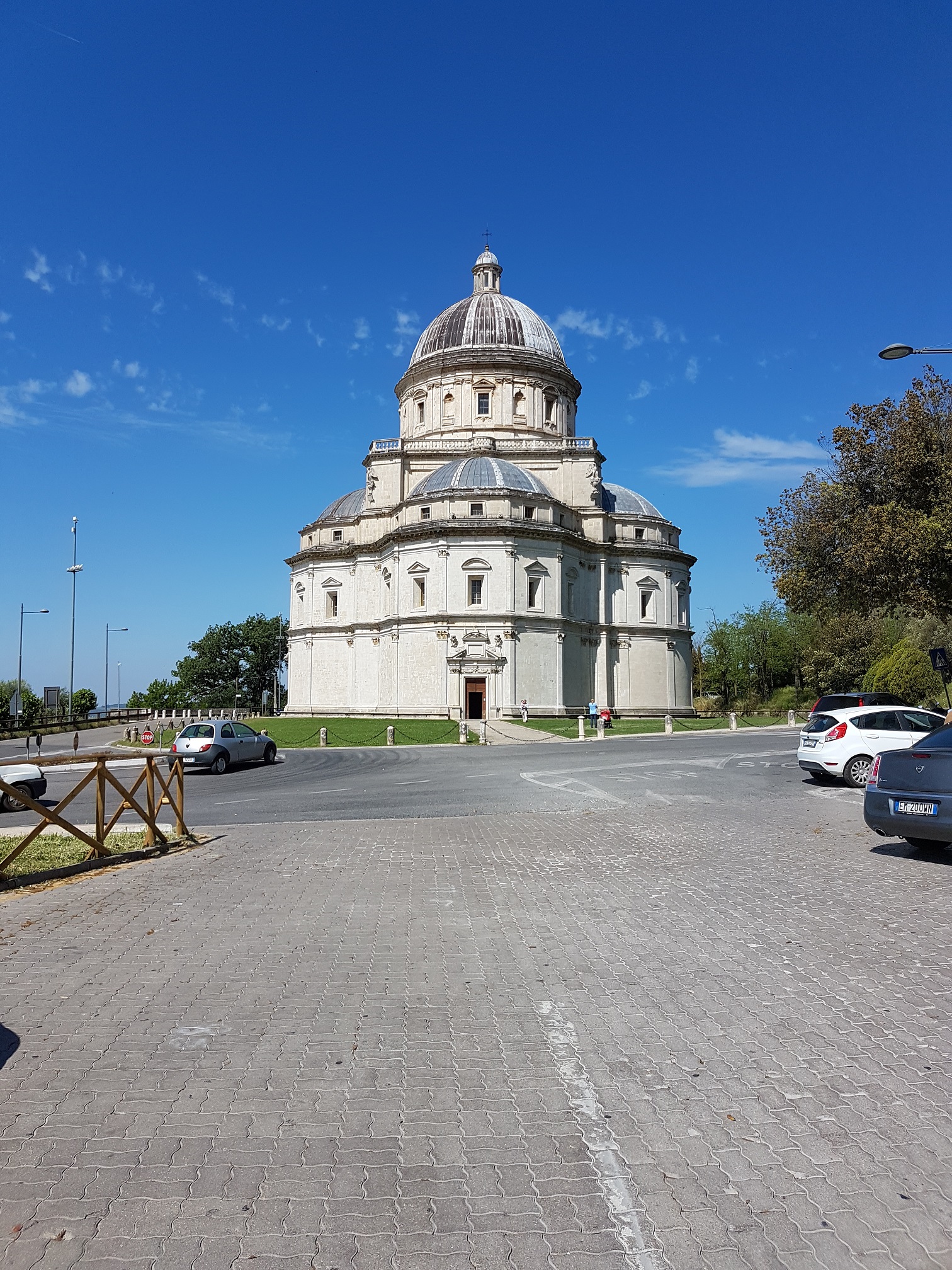 The first injury to the 1954 MSS!!! When going through tunnels in Italy, you need to put your headlights on, with the repeated switching on and off of the lights, I must have worked the small brass screw loose that holds the knob onto the switch, because as I came out of a tunnel I went to turn the lights off again but there was no knob! I don't know why I didn't just ride with the lights on all the time as I have LED bulbs fitted and these use no power at all, however I have learnt from this mistake and since getting back from Italy, I ride with the lights on all the time now anyway. We were about to arrive in a beautiful place indeed, Orvieto.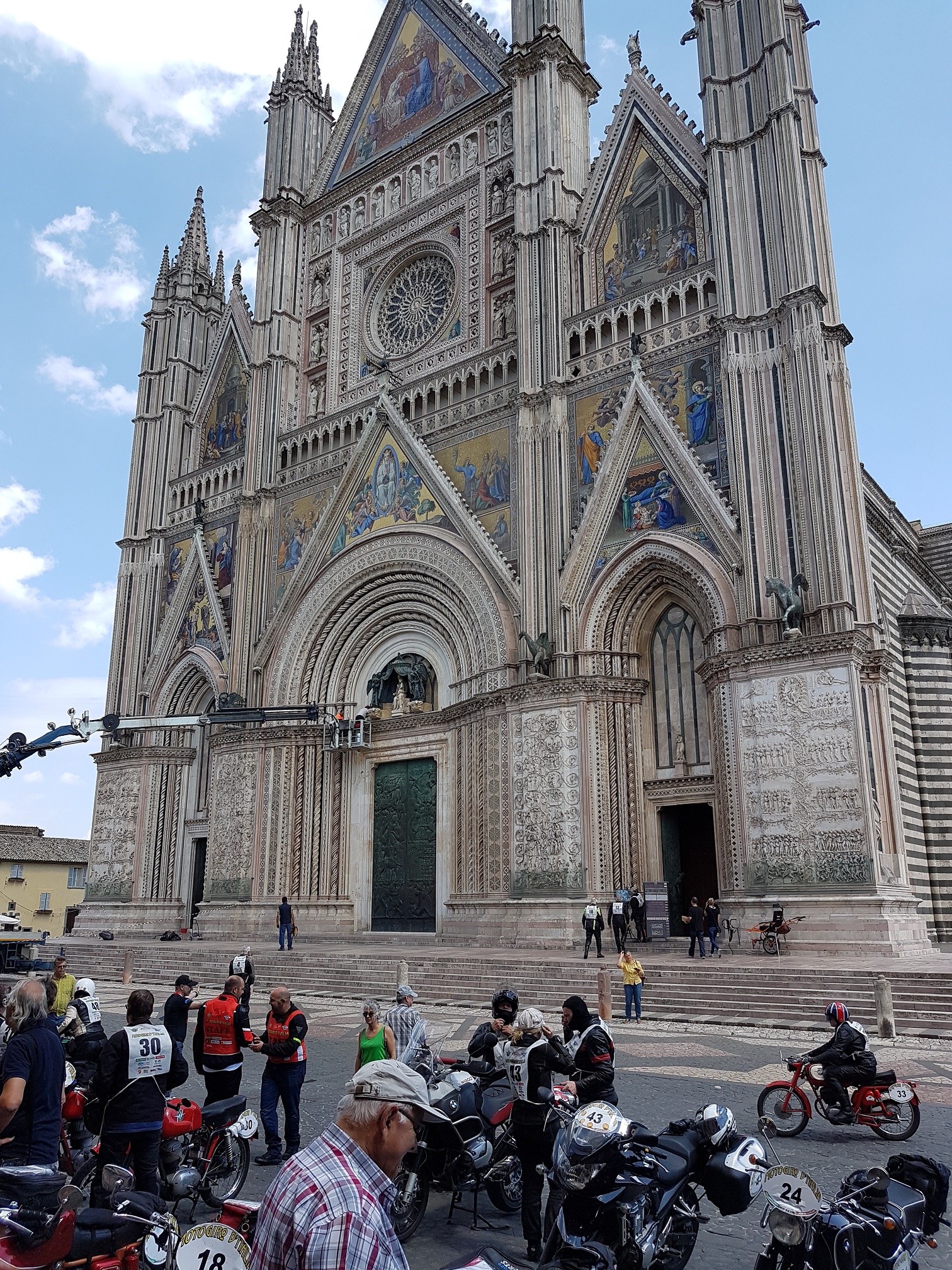 Inside the Church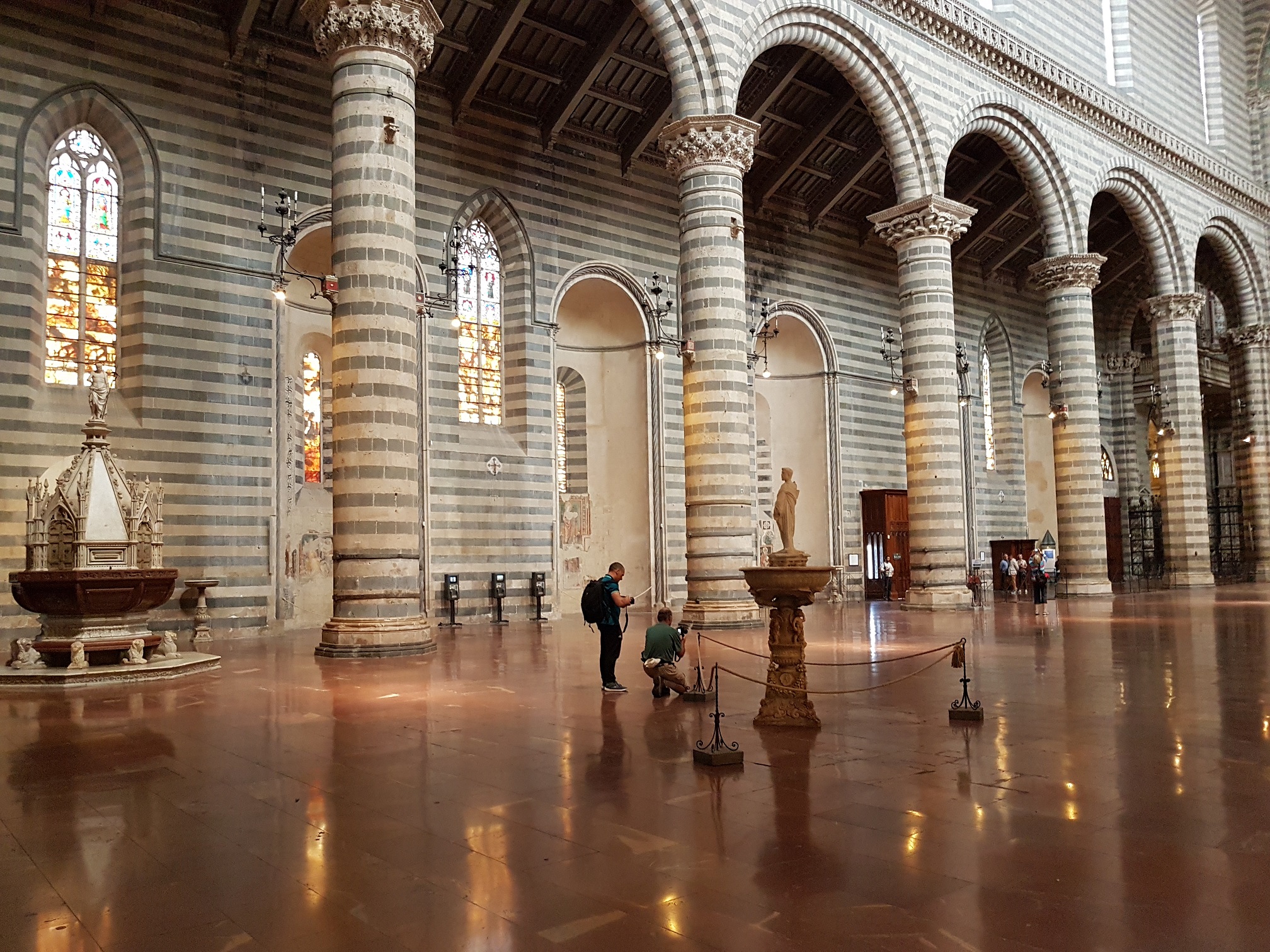 I partnered up with Newal on his BMW R69 and we were keeping up a good pace but I was missing my partner in crime today and was flying the Velocette flag solo, so needed a good showing! We were close to the border with Lazio now, probably at the half way stage on the 'big' day. The weather was as perfect as ever without a cloud in the sky now. There were a few casualties on route with the Moto Giro recovery team doing a great job in either trying to fix the bikes at the roadside or if not recovering the bikes along route and eventually taking them back to Assisi to work on there in the hotel car park.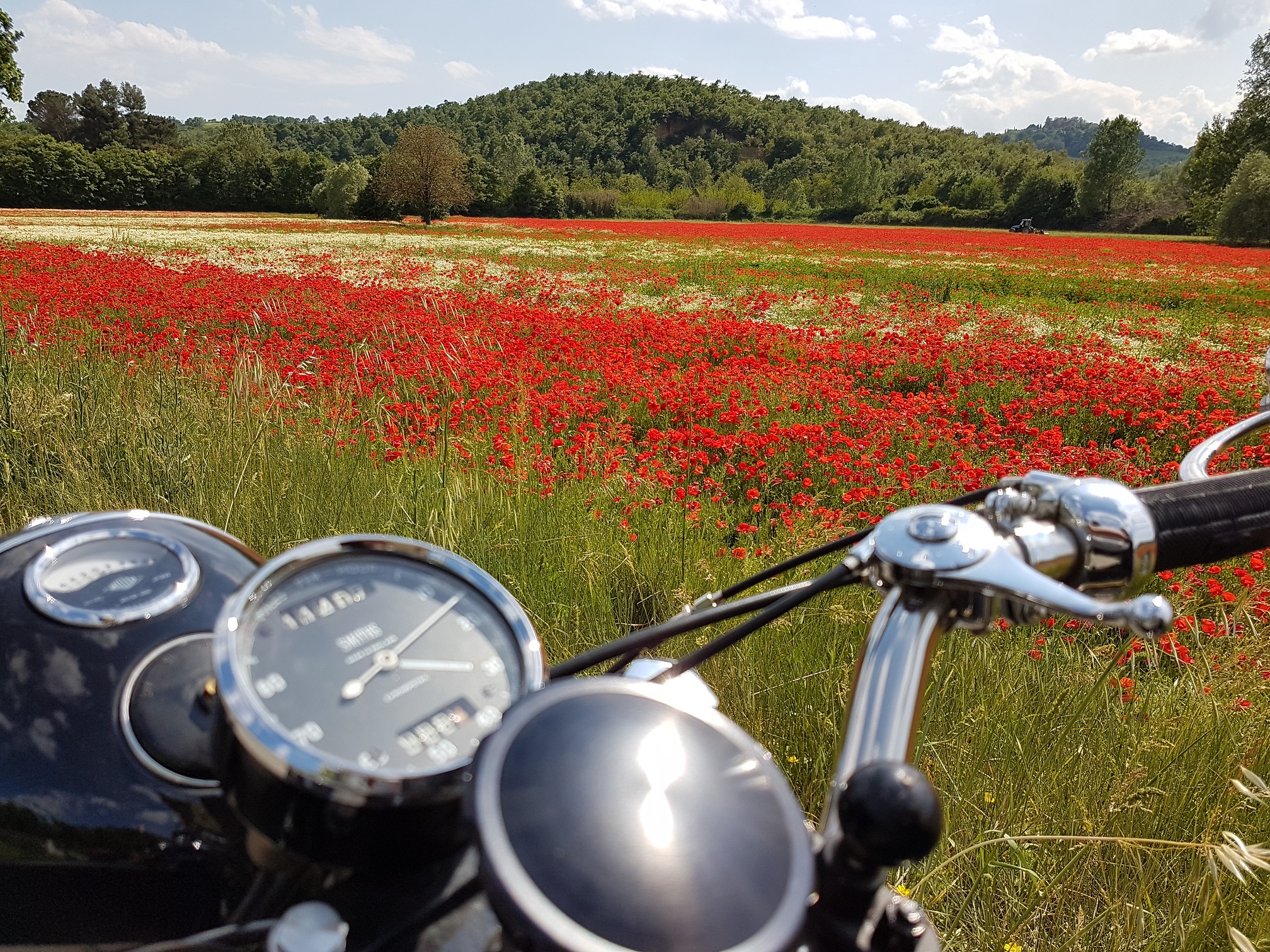 I must have been feeling a bit arty whilst we drove through this area, Citta della Pieve, with all it's poppy fields. The backside was starting to ache a bit at this point as we did some fair old long stints in the saddle in order to clog the miles in but there was still a good way to go yet. I really can't state enough how well organised the event was, it must be such a big task in getting so many local bike clubs to put on food and drink in all the stops along the route plus setting up the special stages which are all marshalled with time keepers, so if you are thinking of doing a bike trip then I don't think you will be disappointed if you choose the Moto Giro D'Italia. After the longest day in the saddle, we arrived back into Assisi, avoiding the many tourist coaches that line up to take visitors to the many Cathedrals that are in Assisi making it a world heritage site. Finishing with a special stage, it was time to dismount and grab an ice cream to cool down. The old girl never missed a beat and she had worked hard all day. If I had my polishing kit with me, she would have got the treatment as a thank you! Back to the hotel for a beer and sit down. Oh and on tonights menu from Cuba was a Montecristo Edmundo. Just before our evening meal, the scramble to see the results list took place, I was starting to move up the rankings, 2nd place for the day wasn't too bad!